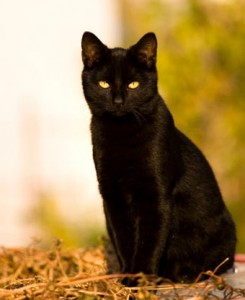 N

ajstaršie známe dôkazy o vzťahu medzi človekom a mačkou pochádzajú z doby pred 4 500 rokmi. K domestikácii prišlo v údolí Nílu v Egypte. Ide o obrazy mačiek namaľovaných na steny hrobiek, sošky mačiek a mumifikované mačky. Na rozdiel od väčšiny ostatných domácich zvierat si pravdepodobne vybrala mačka človeka a nie naopak. Človek totiž priťahoval myši a potkany skladovaním potravín a mačky sa živia práve týmito hlodavcami. Tieto mačky patrili k druhu africkej mačky plavej (lat. Felis silvestris lybica) a stali sa predchodcami dnešných domácich plemien. Je to mačka žijúca v stepiach Afriky a Arábie. Má veľké uši, je štíhla a dlhonohá. Je pravdepodobné, že mačka plavá nebola jediným predchodcom dnešných mačiek. Domestifikované boli tiež zrejme mačky lesné (Felis silvestris silvestris) a mačky stepné (Felis silvestris ornata). Domovinou mačky lesnej je Európa, Malá Ázia a Irán. Je to relatívne mohutná mačka s krátkymi ušami a hrubým, dobre osrsteným chvostom. Mačka stepná zas pochádza z prednej a strednej Ázie a je podsaditejšia ako mačka plavá.
Starovek
S

tarovekí Egypťania mačky zbožňovali a uctievali ako božstvo. Verili, že majú moc chrániť človeka pred všetkým zlým. Prítomnosť mačky v dome znamenala v starovekom Egypte požehnanie, dobré zdravie pre všetkých a dlhý život. Ak v ich dome zomrela mačka, domáci si na znak smútku oholili obočie a smútili za ňou. Najposvätnejšie egyptské mačky boli čierne, strážili chrámy kňazom a bohov. Ich zabitie sa trestalo smrťou. Mačky mali vlastnú bohyňu - Bastet, ktorá bola okrem iného aj bohyňou vychádzajúceho slnka, mesiaca, plodnosti, štedrosti, tanca atď. Egypťania ju zobrazovali ako malú mačku s levou hlavou, alebo ako ženské telo s mačacou hlavou a pripisovali jej niektoré mačacie vlastnosti - to však prišlo až vývojom, jej pôvodnou funkciou bola ochrana mennenferského pohrebiska. Egypťania ju uctievali už od nepamäti. V roku 500 pred Kr. dosiahol mačací kult v Egypte svoj vrchol. V tom čase pokladali Gréci a Rimania mačku za zvláštne domáce zviera a na lov myší uprednostňovali fretky. Neskôr dostali grécka bohyňa Artemis, rímska bohyňa Diana a škandinávska bohyňa Freya istú podobu s mačkou. Boli patrónkami plodnosti a pôrodu, keďže sa mačky dojímavo starajú o svoje mladé. Pre schopnosť mačky meniť tvar zreničiek ľudia bohyniam pripísali tiež patronát nad mesačnými fázami.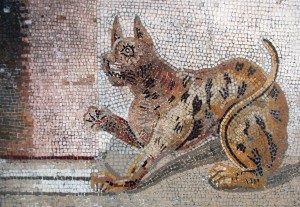 P
latil prísny zákaz vyvážať mačky z Egypta.
F
énickí moreplavci preto pašovali
mačk
y doTalianska, Gálie a Británie. Do Európy, najmä Grécka sa však domestikované mačky výraznejšie dostali obchodnými
cestami z prednej Ázie. Prvé dôkazy o rozšírení mačiek v Európe nachádzame na vázach z 5. a 4. stroročia pred Kr. O rozsiahlejšie rozšírenie mačiek po Európe sa postarali opäť Feničania počas Veľkého sťahovania národov, kedy sa mačky dostali na rímskych bojových lodiach až do strednej Európy.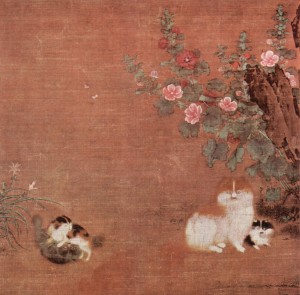 D

o Číny a odtiaľ neskôr aj do Japonska
sa mačky dostali z Indie. Mačky boli v týchto krajinách dôležitou súčasťou náboženských obradov a v Japonsku mali za úlohu ochraňovať cenné kokóny húseníc priadky morušovej a v chrámoch zasa staré rukopisy pred potkanmi a myšami. Japonci verili, že len človek a mačka majú dušu. Mačka Japoncom prinášala dlhý život a šťastie, bola symbolom
šťastných, bohatých ľudí. So zánikom starej japonskej kultúry však mačky prišli o svoje postavenie a vrátili sa späť na hospodárske usadlosti. V budhizme
boli mačka a had prekliate, pretože ako jediné bytosti pri Budhovej smrti neplakali. Číňania tiež mačku spájajú s chudobou, s čím sa spája aj zvyk Číňanov postaviť sochu mačky pred dom a rozvešať obrazy mačiek po dome, aby odplašili chudobu. Zo starovekej Číny tiež pochádza povera o čiernych mačkách, nositeľkách nešťastia.
Stredovek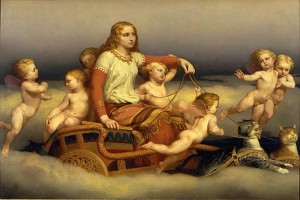 D

o Európy sa mačky dostali okolo roku 500 pred Kr. Najskôr sa plavili na fénických obchodných lodiach z Egypta do Grécka a neskôr do Talianska. Počas vlády rímskeho cisára Augusta priniesli sýrski mnísi niekoľko mačiek aj do Ríma, kde sa stali ozdobou salónov bohatých ľudí. Čoskoro však Rimania objavili schopnosť mačiek loviť myši a tak si ich rímski legionári brali so sebou na vojenské ťaženia na sever. A tak dobyli spolu s Rimanmi Britániu aj mačky. Veľkú obľubu si mačky získali u Škótov. V 10. storočí bola mačka v Európe hodná majetku a boli natoľko cenné, že v roku 936 bol vydaný zákaz ich zabíjania (trest za zabitie mačky sa odvíjal od jej veku a ceny). Žili na hradoch a ochraňovali obilné sýpky proti hlodavcom. V Anglicku, Škótsku, Írsku a Walese mačka dodnes prináša šťastie. Podobné zmýšľanie mali aj Germáni, ktorých bohyňa Freya, manželka boha slnka Baldura mala voz ťahaný mačkami. S prijatím kresťanstva v 4. storočí museli však bohovia odstúpiť a s nimi aj mačky. Na Freyu sa zabudlo rýchlo, mačky však vďaka svojim loveckým schopnostiam našli ešte na niekoľko storočí svoje uplatnenie. Všetky dobré skutky sa im však nakoniec v období temného stredoveku vypomstili.
Novovek
S

nástupom novoveku sa situácia obrátila. V období baroka sa mačky stali ozdobami salónov. S postupom času sa však stala príliš "obyčajnou" a začalo sa s jej šľachtením. V 17. storočí sa do Európy dostala informácia o ušľachtilých mačkách chovaných v perzskej provincii Chorásán. Zo začiatku boli všetky dlhosrsté mačky nazývané ankarskými podľa hlavného mesta Turecka.
V 20. storočí sa mačka stala zaujímavou pre medicínu a vedci ju skúmali z rôznych aspektov (fyziológia, psychológia, genetika). V 60. tych rokoch 20. storočia prebehol etologický výskum ako divých, tak aj domácich mačiek. Od rokov deväťdesiatych patrí mačka medzi najrozšírenejšie domáce zvieratá sveta. Pod vplyvom historického vývoja majú však najmä ľudia žijúci v západných krajinách rozpoltený vzťah k mačkám. Veľa ľudí je napríklad presvedčených, že keď im čierna mačka prebehne cez cestu, prinesie im to nešťastie. Systematický chov mačiek existuje v Európe približne 150 rokov. Prvá výstava mačiek na svete sa konala v Londýne v roku 1871. Bolo na nej možné vidieť aj niekoľko siamských mačiek, ktoré boli v tej dobe dovezené do Európy. Chovatelia a milovníci mačiek sa začali združovať do rôznych spolkov, aby si vymieňali skúsenosti, usporadúvali výstavy, vydávali rodokmene, viedli plemenné knihy a určovali znaky plemien. Dnes existuje celý rad organizácií chovateľov mačiek. V Európe je najznámejšia FIFe (Fédération Internationale Féline).